Certificate of Excellence
Tuesday, May 16 2017
Thank you, Yakima, for selecting Alliant Communications as your "Best Telephone System Company"!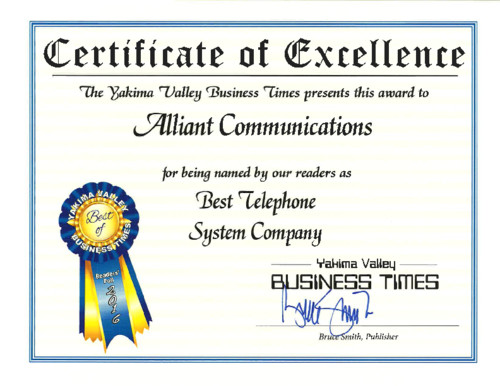 Datto - Disasters Happen
Tuesday, May 16 2017
Learn how Lifesize Cloud can Benefit your Business
Thursday, December 11 2014
For companies that don't want the up-front capital costs and management of on-premises infrastructure hardware or virtual machine software, cloud solutions make cost-effective and scalable meetings possible.
1. Reduced Costs
Affordable

No expensive infrastructure to manage
2. Efficient
Faster to deploy

Easier to use
3. Management & Usability
Lifesize manages cloud operations for you

Easy-to-use user interface

Frustration-free web console for customer account managers
4. Usage-Based Costs
Pay for only what you need

Scale as your company grows
5. Automated Cloud-Based Software Updates
Learn more abotu what Lifesize cloud has to offer
here.
Learn More about Datto
Monday, December 01 2014
Datto is disaster recovery backup that can help ensure the security of your irreplaceable documents.
Which version of Datto best fits your business? Read more details about Datto here to find out.
Learn more about what ESI can do for you.
Wednesday, November 19 2014
ESI Presence Management is a hardware and software solution incorporating an innovative combination of RF scanning technology and ESI's business communications systems. Now even small and medium-sized enterprises can reap the benefits of:
Presence indication.

ESI's Personal Call Routing.

Access control.

Documented tracking of users' work hours and attendance history
Need new equipment? Use Section 179 to write off your purchases for 2014.
Monday, November 10 2014
Let us educate you: Section 179
Section 179 of the IRS Tax Code allows a business to deduct, for the current tax year, the full purchase price of financed or leased equipment and off-the-shelf software that qualifies for the deduction. The equipment purchased, financed or leased must be within the specified dollar limits of Section 179, and the equipment must be placed into service in the same tax year that the deduction is being taken (for tax year 2014, this means the equipment must be put into service between 01/01/2014 and 12/31/2014).
Check out more information here.
Humane Society Thanks Alliant for Upgraded Phone System
Monday, April 14 2014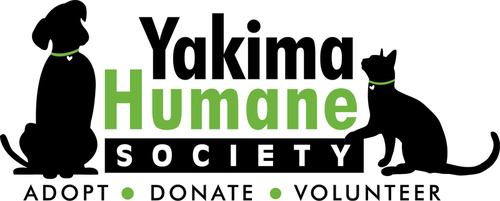 Alliant Communications
18 West Mead
Yakima, Washington 98902
It Is my pleasure to forward our appreciation for the positive outcomes our shelter has experienced with the installation of our Alliant Communications esi phone system.
Alliant Communications' portfolio of quality products and level of service provided an immediate improvement in the internal and external communications at our Yakima Humane Society. When Michael Liddicoat first approached our team, he helped us to Identify the functionality that an ideal telephone system could offer our shelter. He then walked us through our options, with examples that were applicable for our current processes as well as future plans.
The system we chose has exceeded our expectations. In addition, the Alliant staff has been with us every step of the way. The AIICare Program option is one that I would highly recommend; essentially it was like adding an entire service and technical support team to our organization. Alliant AIICare Is there whenever needed to answer our questions, facilitate training or provide system maintenance.
Our Alliant Communications esi system allowed us to expand our level of service to our community, which was our highest priority. It also streamlined our internal communications; allowing for faster and easier information exchanges. Our level of accurate and complete messaging is much improved.
Not so long ago our outdated system required every incoming call to be physically answered and subsequently transferred. That inefficient process forced our front office staff to spend the majority of their reception hours as a "call center", affecting our ability to assist customers visiting our shelter as well as those calling for Information.
Customers that phone our shelter now have the majority of their questions answered quickly via our menu of topic choices, which is very easily navigated. Hold times have been reduced for anyone calling during business hours, and after hours callers are able to leave messages at the appropriate extension, resulting in a more timely response.
Results and positive impacts directly attributed to our Alllant system Include allowing the talents of our team to be better utilized, providing more time In our work day to focus on priorities, improving team morale and increasing customer satisfaction. All are huge benefits for our organization and support our mission to end pet homelessness.
Our sincere thanks to Michael Liddicoat and Alliant Communications for showing our Yakima Humane Society the solutions we needed to extend our effectiveness as our community's only open admission humane animal shelter.
Sincerely,
Wendy St. George
Executive Director
Yakima Humane Society
Alliant awarded the Junior JA World Partnership Award
Monday, February 17 2014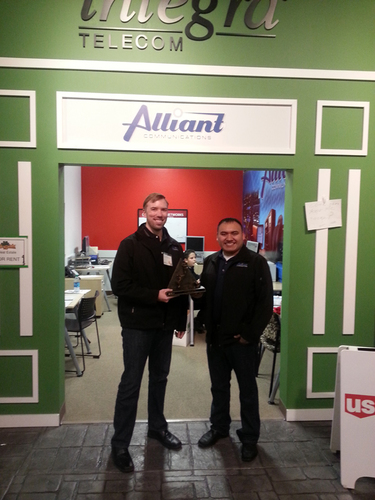 Alliant was given the Junior JA World Partnership Award last Friday February 14, 2014 at Junior Achievement's Donor Appreciation event. On hand to accept the award from Alliant were Michael Liddicoat and Juan Crisostomo. For more information on Junior Achievement check it out here.
Michael Liddicoat promoted to Customer Advocate
Wednesday, February 12 2014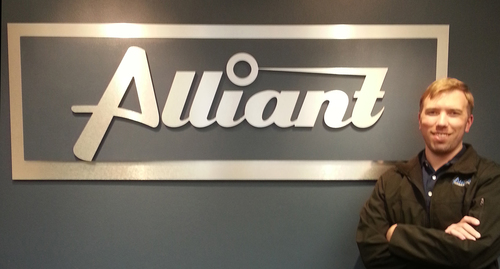 Michael Liddicoat has been promoted to the position of Customer Advocate at Alliant. He will be working with Joe Longo, our current Customer Advocate, to provide our customers new opportunities to "Increase their profitability and give them a competitive advantage in their business".
If you have questions regarding our Customer Advocate program, please give Michael or Joe a call.
Congratulations Michael!
Kris Cochran and Daniel DiMarco receive SonicWall Certification
Tuesday, December 10 2013
Kris Cochran and Daniel DiMarco spent last Thursday and Friday in Kirkland, WA completing their SonicWall Network Security Administrator training through Global Knowledge. Both passed and received certification from SonicWall. Great Job Guys!